Purchasing Festival Tickets & Merchandise
Most of the events are free with some exceptions including Lancaster Castle for which there is a single £1 charge per session*.
For a one off charge of £5 you can order a weekend pass wristband which you can pick up on your initial visit.
You can order your wristband in advance (see below) or buy at the gate. * There is no time limit per session.
The guitar Master Class and Showcase at The Storey are both ticketed. Tickets can be obtained from TicketSource via the link below.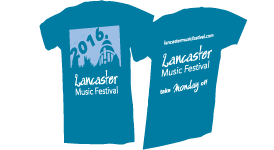 festival Tshirt
£12 (including P&P)
NB: Please choose your size.